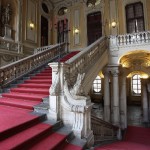 June 16, 2013 at 2:30 p.m.
Liudmila Zhiltsova will take part of the TIM – International Tournament of Music.
She will performance at the Palazzo Barolo (Via delle Orfane, 7, Turin, Italy) with the program:
Ch. Gounod – Roméo et Juliette "Je veux vivre…" (Juliette)
G. Donizetti – Don Pasquale "Quel guardo il cavaliere…" (Norina)
LAST NEWS: Liudmila has passed selection in Turin. Next meeting where Liudmila sing for TIM will be in Paris, France (summer 2014). Congratulation!
For more information:
Via F. Patetta, 79
00167, Rome, Italy
Tel. +39 066621973
www.timcompetition.org
info@timcompetition.org