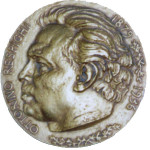 June 2014
Liudmila joined the Final of Respighi Prize Competition 2014.
The Respighi Prize has been established to encourage and offer a performance opportunity for young talented composers and soloists through the inspiration of Ottorino Respighi's music. This Award organized by  The Chamber Orchestra of New York.
Full results will be announced in July 2014.
more info:
The Respighi Prize
Chamber Orchestra of New York
404 E. 76th Street, Suite 5E
New York, NY 10021
info@chamberorchestraofnewyork.org