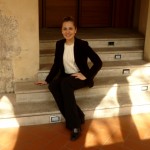 Liudmila has won "Rachmaninov's" Special Prize  of 9 th International Singing Competition 'Città di Brescia'.
She has won award for the best execution of S. Rahmaninov.
The Competition takes place in Brescia (Italy) at St. Barnaba's Auditorium every two years. The jury on this year was formed from: FIORENZA COSSOTTO, LEONE MAGIERA, KAREL DRGAC and BETTINA GIESE.
25 March, 2012