"Cibavit eos…"
new collaboration with Roberto Dal Bosco.
Liudmila sings for the new production by Roberto Dal Bosco. This is the second collaboration between two artists. Recording has been made at Saman Studio of Milan (Italy).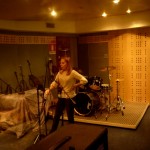 The first presentation has been 23 November, 2012 in the 'Sala del Quadro' of the sanctuary of Monte Berico, Vicenza (Italy).
the voice in from 4:44 min.
For all information clik here